As funding bodies push for translational research, more researchers need access to biospecimens and de-identified clinical data. However, it can be difficult for researchers to find which biobanks store the specimens they need since data is not easily accessible.
On the other hand, biobanks have a bigger problem – improving their specimen utilization rate. More than two-thirds of American biobanks worry about specimens under-utilization (1,2). Specimens use has both economic and ethical implications. Biobanks are only sustainable if they can recover some of their operating costs by sharing specimens. Since public money is often used to collect and store biospecimens, there is also an ethical obligation to maximize specimen use and avoid duplication efforts (3).
Furthermore, funding bodies and government organizations such as the U.K.'s Medical Research Council want biobanks to maximize biospecimen use to fulfill their ethical obligations to specimen donors and uphold public trust in the biobanking community (2,3).
"Awareness and use can be improved through high-quality online information about the resources." – Medical Research Council
According to leaders in the biobanking field, biobanks can maximize biospecimen use by engaging in marketing, education, and outreach to ensure that researchers know how to access specimens (1).
Therefore, a web-based easily searchable database of research specimens with good quality dataset will help bridge the gap between biobanks and researchers.
Solution: A Web-Based Biospecimen Catalog
OpenSpecimen is an established biospecimen informatics platform used in 70+ biobanks across 20+ countries. The SpecimenCatalog module within OpenSpecimen enables biobanks to share biospecimen data with internal or external researchers.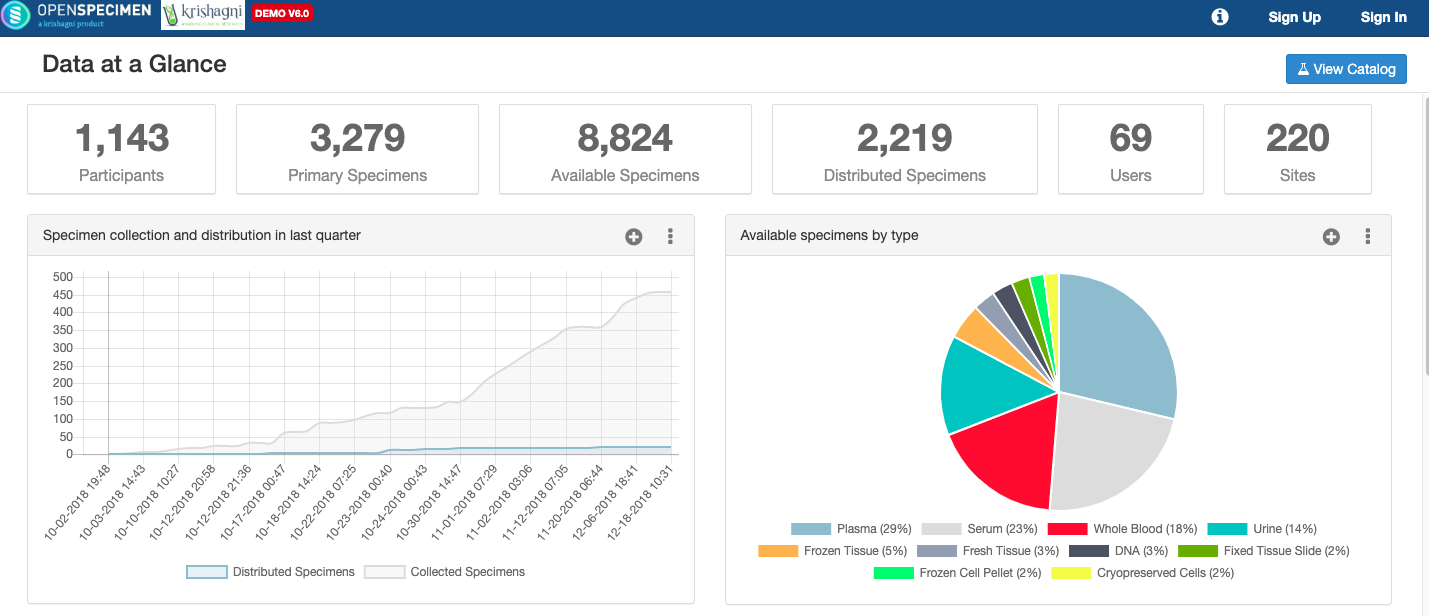 For Biobanks
Biobank staff can easily create one or more catalogs within OpenSpecimen without any IT support. What data to expose on the catalog and which specimens to share is configurable and decided by the biobank. For example, one might want to hide rare specimens or the ones collected for a specific study.
Also, multiple catalogs can be created. For example, based on disease like Breast cancer catalog, Lung cancer catalog, or based on the study group.
For Researchers
Researchers can search the SpecimenCatalog using an easy-to-use user interface. Researchers can shortlist specimens of interest and fill in a request form to access these resources. Biobanks receive these requests and initiate the process to review the application. 

Many studies have shown that specimen quality affects research results (4). Researchers need standardized, high-quality biospecimens to perform reproducible experiments (1,4). Furthermore, biobanking best practices recommend linking all specimens to de-identified clinical data and quality management data to maximize the value of specimens to researchers (3). SpecimenCatalog makes it easy to include these datasets.
Biobanks can also create multiple catalogs based on diseases or studies e.g. Breast cancer catalog, Diabetes catalog, etc. Creating new catalogs is very simple and can be done without any IT support.
Summary
SpecimenCatalog closes the gap between biobanks and researchers, making it easier for researchers to find the specimens and data they need, and for biobanks to publicize their biospecimen collections and maximize use of their specimens.
References
Sawyer, SJ et al. Ensuring Biobank Value Through Effective Utilization.

Biopreserv. Biobank

. 2015

Cadigan et al. Underutilization of specimens in biobanks: An ethical as well as practical concern?

Genet Med

. 2014.

MRC ethics series. Human Tissue and Biological Samples for Use in Research: Operational and Ethical Guidelines.

Medical Research Council

. 2014.

NCI Best Practices for Biospecimen Resources.

National Cancer Institute

. 2016.
Written by: Srikanth Adiga, CEO, Krishagni
For more details, email [email protected]