At 18 Spanish hospitals, when a patient with brain metastasis undergoes surgery, they can donate a tiny part of their brain to the first repository of brain metastasis living samples in the world, based at CNIO (Spanish National Cancer Research Centre). It is a pioneering collection in the world, created to accelerate the search for therapies against brain metastasis, a disease that affects up to 30% of patients with systemic cancer.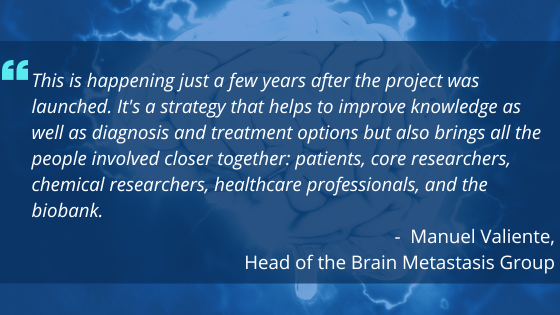 The creators of this repository are two researchers from CNIO, Manuel Valiente, head of the Brain Metastasis Group, and Eva Ortega-Paíno, director of the Biobank, who set out in the journal Trends in Cancer the advantages of the collection, called RENACER –the Spanish acronym for the National Brain Metastasis Network–, which in just three years has compiled samples from more than 150 patients.
The truly unique feature of RENACER, which makes it a valuable tool for the international scientific community, is that it contains living samples, conserved in cultures that enable the cells to continue behaving in a similar way as they were in the body.
Click here to read more.