The "PREgnancy Care Integrating translational Science, Everywhere" (PRECISE) Network aims to develop a unique cohort of biologically and contextually characterized pregnant and non-pregnant women of reproductive age in East (Kenya), West (The Gambia), and Southern (Mozambique) sub-Saharan Africa region to support research into placental disorders (hypertension, fetal growth restriction and stillbirth). 
Approximately 46,000 women and 2.5 million babies (both before and after birth) die due to these problems every year. Half of them die in Africa.  Also, about 50 million women and babies will have their short and long-term health altered because of these complications. These numbers represent one of the great global inequalities of our time.
Unlike developed countries, the reasons for these pregnancy complications are less researched in the sub-Saharan Africa region. This is more complex to study because the challenges faced by African women are different, e.g., limited diets that change with the seasons, chronic infections such as HIV or malaria, acute infections like Ebola, limited autonomy of decision-making, and life in communities that are prone to either flooding or drought, etc. PRECISE is designed to address this area of neglected global health research.
OpenSpecimen Adoption 
PRECISE adopted OpenSpecimen to manage biospecimens collected in three African countries and managed by King's College London with the Data Management team at the University of British Columbia (UBC). 
The PRECISE study is a longitudinal study that includes multiple participant visits, including their booking visit when they first attend the health center for antenatal care, a third-trimester, a delivery, and a postpartum follow-up visit. Each visit involves different types of specimen collection from mother and baby, e.g., whole blood, urine, cord blood, breastmilk, placenta, and stool. These specimens are processed and stored in the biorepository at each site.
Since the study involves collecting multiple specimens from both mother and baby at each visit, the specimen collection page needed to be configured to capture additional details of these specimens. This was achieved through OpenSpecimen's high degree of configurability. Custom fields were added to the specimen collection pages, such as – 
Sample origin – Mother, baby (or number of babies, if multiple babies)

Centrifugation time for blood and urine specimens

Freezing methods 

Date and time of placing tissue in formalin for placental samples

Date and time tissue moved to ethanol for placental samples
Customized Specimen Collection Page: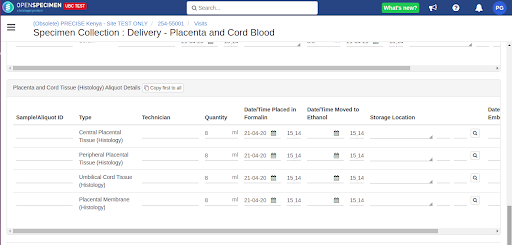 Data Entry Using Mobile Application
Some of the health facilities where the PRECISE study is being conducted are rural facilities where internet access is unreliable. As most LIMS systems require internet access for data entry, data collection by our teams became cumbersome. Our team had to collect the data on paper and transcribe it to the database once an internet connection was made. 
Krishagni developed a Mobile Application with offline mode support (i.e., collect data without internet) to overcome this issue. The mobile app allows the teams to enter the laboratory data in real-time through a simple interface, regardless of the internet connection. When the internet is available, the data can be synced to the main database.
Below are some data entry pages of the mobile application –  
Participant/Visit/Specimen Data Entry Pages 
Navigation to the patient, visit, and specimens: Allow you to navigate to any object from any screen with a single click. 
Custom Forms: Allow you to collect additional/custom data.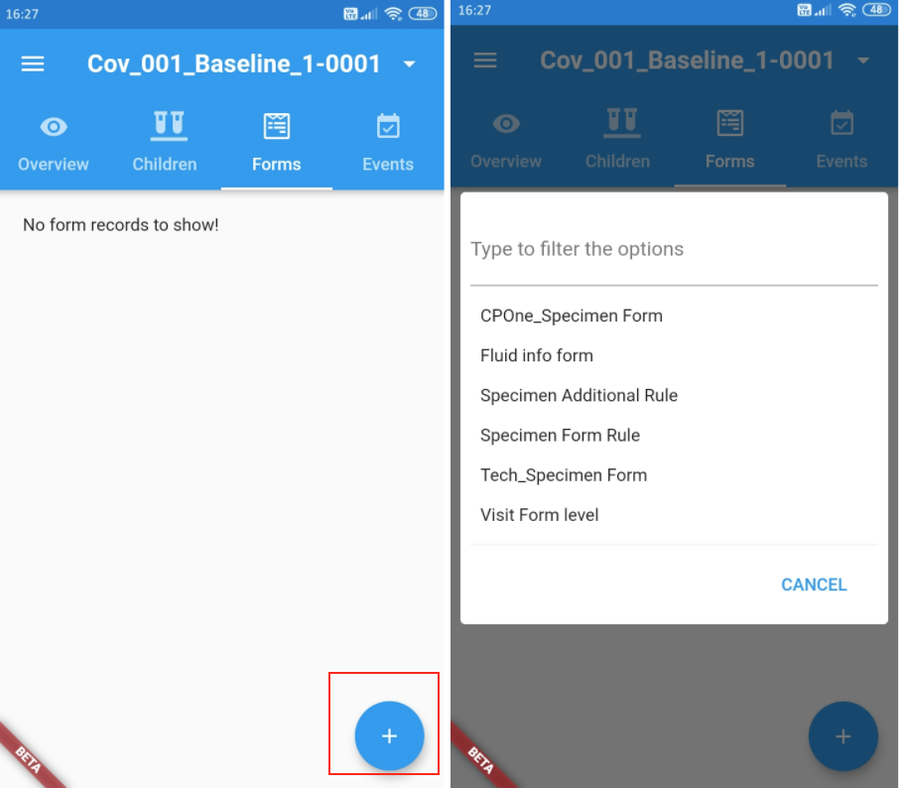 End-User Training
The PRECISE sites found the mobile app easy to use. Given they are using the online system competently, introducing the Mobile App has been straightforward. An online training session led by the Data Manager and Project Manager was held where the sites were introduced to the app, and they are now confident in using it.
PRECISE perceptions of the Mobile App
Report from the Kenyan team, based in Kilifi District:
We have been using the Openspecimen Web version since Dec 2019; it has been very efficient and easy to use by the laboratory team compared to the previous system.
However, we experience a challenge using the web version when the internet connection is unavailable. Sometimes OpenSpecimen server downtime also leads to a backlog of data entry.
To solve this problem, we were introduced to the OpenSpecimen Mobile app, which is an offline version. The app has solved most, if not all, of our challenges, and we are now able to save data in the event there is no internet and when the server is down. It's a user-friendly app and very easy to use. Installation of the app does not need technical skills, and the team is pleased to use it.
Report from the Gambian team, based in Farafenni: 
The OpenSpecimen mobile app is one of the best apps for areas with a poor internet connection. We always have internet connectivity problems, especially during the rainy season, due to the location of our study sites. The mobile app enables us to enter our data in real-time and sync it later when the internet connection is available. With the mobile app, one does not have to worry about data entry backlog due to internet unavailability.  The app is user-friendly, and I will recommend its usage for studies in remote settings.
Report from Mozambique Team: 
The Mozambique team working in Manhica has been using OpenSpecimen since 2020. They were introduced to the mobile app during the year, and it was a revolution for the team! This application came to accelerate the entry of data into the system when the internet is down. Fortunately, in Manhica and Xinavane, where the PRECISE study occurs, we rarely have to use it as we have reliable internet, but it is a good backup.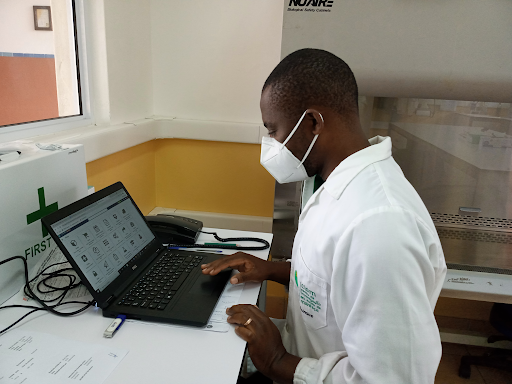 Desire using OpenSpecimen Application
Summary
The PRECISE group aims to build a unique cohort to support research into placental disorders in the sub-Saharan Africa region. They adopted OpenSpecimen to manage biospecimens collected in three African countries and managed by King's College London. They also use OpenSpecimen's mobile app to do data entry in remote areas where the internet is unreliable. The PRECISE teams from various sites reported that the mobile app is user-friendly and has made the data entry process easier.   
Click here to know more about the mobile application.  
References: 
https://precisenetwork.org/about/the-precise-network/
https://mailchi.mp/f40f86c2afd2/precise-newsletter-october-4091053
Written by: Sharvari Gokhale, OpenSpecimen Product Expert
For more details, email [email protected]