Tampa General Hospital and the University of South Florida (USF) Health Morsani College of Medicine are partnering to establish a medical research biorepository. The Health Precision Medicine Biorepository intends to serve as a facility that collects, catalogs, and stores samples of biological material for medical research.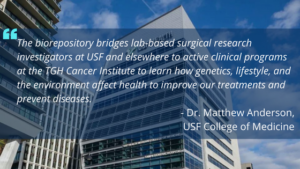 The biorepository will act as a collection of organic material for the two institutions where researchers, physicians, and scientists can access donated samples and correlating data for scientific study.
The collection will be supplied by patients of the two entities that grant permission for broad investigational use of donated specimens.
Click to read more.