The University of Mississippi Medical Center is an enrollment site of the All of Us Research Program, a National Institutes of Health initiative to collect health information from 1 million Americans. Its goal is to create one of the largest, most diverse datasets in history, allowing scientists to study all of the factors that influence health and accelerate progress towards preventing, treating, and curing diseases.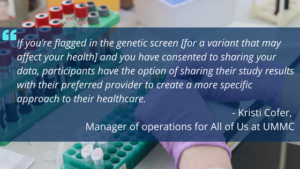 Dr. Gouri Mahajan, the co-principal investigator for UMMC's All of Us site, said that one of the study's main goals is to advance precision medicine: "medicine that works explicitly for that patient," she said.
Mahajan became co-PI of UMMC's All of Us study site in January 2022. She also leads UMMC's separate biobanking and precision medicine-oriented study in collaboration with Mayo Clinic, Biobank Mississippi. The NIH announced All of Us in 2015 and started enrolling participants in 2018. Intended to run for at least 10 years, the study has enrolled 500,000 people nationally. About 340,000 of them have provided their data and specimens. 
Click to read more.