Industrial advances have been associated with large-scale changes in the human gut microbiome and a higher incidence of complex human diseases. 
Rewilding the human gut microbiome by transplanting the whole gut microbial community from donors in nonindustrial societies may result in a dramatic mismatch between our industrial environment/lifestyles and the ancestral microbiome.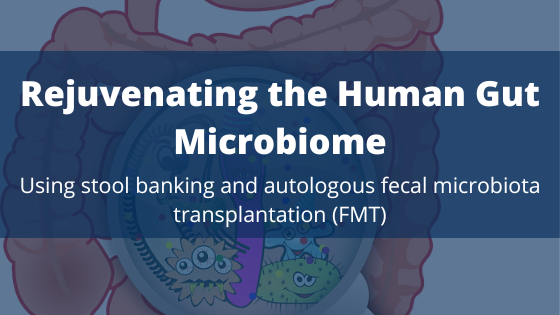 Emerging studies suggest that stool banking and autologous fecal microbiota transplantation (FMT), using the recipients' own stool samples collected at a younger age when they are disease-free, may be a better – or at least an alternative – solution. This leads to the idea of rejuvenating the human gut microbiome.
The conceptual similarity between stool banking for autologous FMT and cord blood banking for an autologous transplant implies the potential for rejuvenating the human gut microbiome.
Read
this
article that discusses the motivation, applications, feasibility, and challenges of this solution.