The Health Ministry is building collaboration with private pharmaceutical companies to support the establishment of a biobank ecosystem in Indonesia.
The ecosystem will enable the collection of different biological samples and support research to improve the quality of health services in Indonesia, Health Minister Budi Gunadi Sadikin said.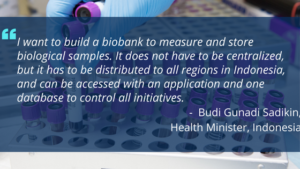 He said biobanks in Indonesia will be supported by bioinformatics capabilities that are currently being developed by the government as the main system of reliable computing, in the form of primary, secondary, and tertiary analyses that combine data, demographics, clinical, and genomic expertise, in accordance with expertise in medicine, biology, knowledge, and information.
Biobanks will help store, process, and strengthen the analyses of DNA, RNA, tumor or non-tumor tissues, cells, plasma, and biological fluids for the development of national biotechnology, the minister added.
Click to read more.