The Biobank at the Colorado Center for Personalized Medicine contains samples and genetic information derived from UCHealth patients that can enrich the knowledge their providers use to treat them.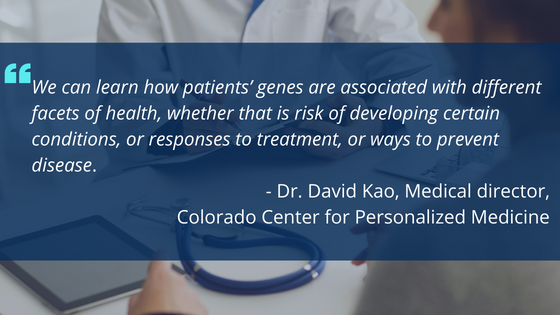 "We are able to assess how genetics are important to treating our patients here," Kao said. "We can tell providers what the best things to do are, with confidence that it applies to the person in front of them."
For example, Kao said, Hispanics make up about 15% of UCHealth's patient population. Genetic information from a biobank of patients from, say, the United Kingdom, with a much smaller Hispanic population, would not make an ideal match.
"You know you're going to miss something," he said.
In addition, the Biobank specimen data links to a deep reservoir of clinical data stored in the Epic electronic health record (EHR), a capability many other institutions lack, Kao said.
Click to read more.