Introduction
Precision medicine, targeted therapies, and disease prevention research has led to tremendous growth in biobanking worldwide. The biobanks are evolving in terms of operational processes, regulatory requirements, and provision of biospecimen services.  
Different stakeholders contribute to the evolution of biobanks – 
Donors/participants

Funders

Research institutions

Regulatory bodies

Clinicians, e.g., surgeons and pathologists, and 

Researchers
Researchers are the end-user of biobanks and, thus, are vital stakeholders. 
It is crucial to understand what researchers need from biobanks. It would not only help the biobanks to be more productive, but will also reduce the efforts and time of researchers. 
This blog discusses the challenges researchers face and strategies that biobanks need to implement to fill the gap between researchers and biobanks. 
Challenges faced by researchers  
Though there is an increase in biobanks worldwide, their accessibility is still a significant issue. Further, the loopholes in biobanking operations make the biospecimen and related data less useful/unreliable. Some of the concerns raised by researchers are stated in the below diagram.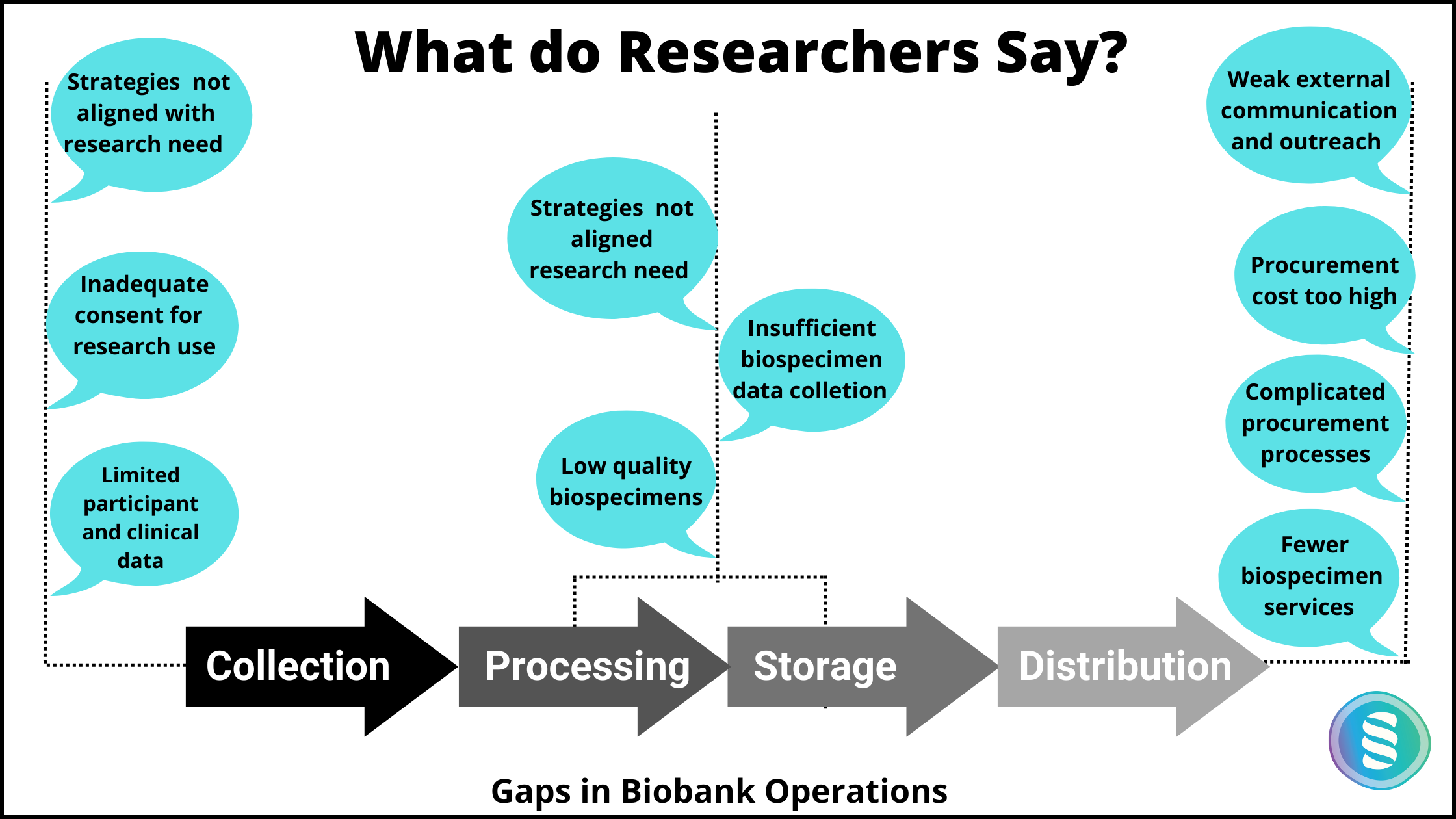 The challenges faced by researchers due to gaps in biobank operations
How can biobanks be relevant and valuable? 
Due to the gaps in biobank operations, researchers prefer to set up their own collections for research studies. Biobanks need to evolve their operations to best match the research needs. They can achieve this by doing market research to understand end-user requirements and implementing strategies to fulfill those. Some of them are listed below – 
Biospecimen and data collection: 
Focus on research-based collections. Avoid unnecessary new collections. 

Collect additional information: More long-term follow-up, clinical, and linked government data.

Implement consenting approaches to suit the researcher's requirements. 

To ensure the collection of quality specimens: 

Stay technologically relevant with the purchase and maintenance of equipment 

Update processes

Use the latest evidence-based guidelines

Invest in a good Laboratory Information Management System (LIMS) to manage biospecimens and data

Invest in biobank accreditation

Encourage researchers to return results. This will prevent duplication, make better use of limited resources, and assist with collaboration.
Biospecimen and data accessibility:
Develop marketing and client engagement plans to encourage local research users. 

There should be flexibility in charging depending on circumstances to tackle the cost issue. Biobank services can be included in grants as an alternative. 

Provide biospecimen services aligned with researchers' needs.

An online

specimen catalog

will help researchers to access specimens and associated data quickly.  

Implement user-friendly specimen distribution processes. 

Improve external communication and outreach. 

Publish biobank outputs and benefits through publications. 

Biobanking conferences could consider dedicated biobank output sessions to encourage greater focus and priority on discussing biobank outputs and value.
Summary: 
For biobanks to remain sustainable and relevant, it is crucial for them to be aligned with the researcher's requirements. It is also important to be aware of continuously evolving research guidelines. Quality specimens and data, and user-friendly specimen-distribution processes remain the key factors to increase the usage of biospecimens collected by biobanks. 
A customizable biobank information management system and an online user-friendly specimen catalog can be helpful for biobanks to address the requirements from different researchers. Publishing biobank outputs and developing marketing strategies will further ensure better utilization of biobank collections.   
Note: Are you looking for a LIMS for your biobank? Watch the recording of our introductory webinar, where we demonstrated the features and benefits of OpenSpecimen.
References: 
Written by: Sharvari Gokhale, OpenSpecimen Product Expert
For more details, email [email protected]