The Universities of York and Newcastle have joined forces with two leading cancer charities to create a new biobank which will provide vital resources for researchers working to prevent, diagnose and treat cancer in children and young people.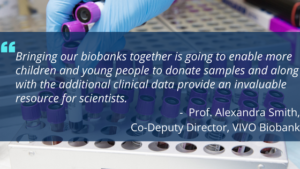 VIVO Biobank is supported by the charities Cancer Research UK and Blood Cancer UK and will provide cancer researchers with a centralized collection of cell and tissue samples from children and young people affected by cancer across the country.
The samples will be a crucial resource as many children and young people's cancers are extremely rare. This has made it difficult for researchers to access sufficient samples from patients in order to study them. 
Click to read more.