Researchers analyzing genomic data from the UCLA ATLAS Precision Health Biobank have found a highly diverse patient population within the repository, and they plan to leverage the data to support precision medicine efforts for underrepresented populations.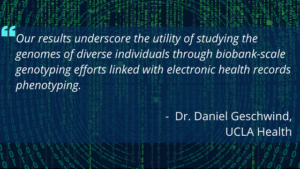 The patient population researchers are analyzing as part of the ATLAS study mirrors the diversity found in Los Angeles, which the press release states are one of the world's most ethnically diverse cities. For this reason, UCLA researchers leverage data from this population to evaluate disease risk, prevention, and treatment.
The ATLAS study collects biological samples from consenting UCLA Health patients, codes the samples, removes any personally identifying information, and provides the samples to approved researchers seeking new ways to prevent, detect and treat health problems. Self-reported demographics, including race and ethnicity designations, come from linked electronic health records. These also are de-personalized for anonymity.
Click to read more.