Qatar has stepped up efforts for better medical research to treat specific diseases as well as to understand the human body, as authorities announced the launch of the Tissue Biobank Service.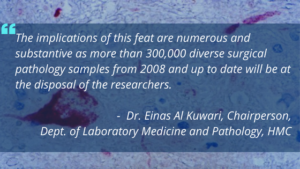 Hamad Medical Corporation (HMC), represented by the Department of Laboratory Medicine and Pathology (DLMP), launched the first phase of the service in Qatar in cooperation with Qatar BioBank (QBB).
Human biological samples are gathered, preserved, and distributed by tissue banks for scientific study. Doctors take extra tissue or bodily fluids from patients, if agreed, for research purposes during an operation, biopsy, or blood test.
Three things are involved in tissue bank activities: (a) sample and data collection; (b) storage and data management, and (c) re-disclosure of tissues.
Click here  to read more.