South Africa has launched a central system to coordinate up to a million biological samples collected in the country over the past 200 years and scattered across its universities, research facilities and national parks.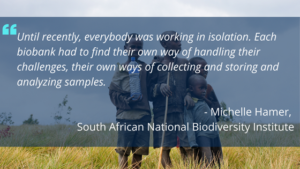 The collections represent a priceless resource for the country, which is one of the most biologically rich in the world. They range from live cultures of bacteria and single-celled organisms to blood taken from iconic wildlife, such as rhinos and leopards, as well as seeds and germplasm from wild and domesticated plants.
Over time, these collections have become inaccessible, sparking trust and credibility issues, according to Michelle Hamer, a zoologist by training who leads infrastructure development at the South African National Biodiversity Institute.
Click here to read more.