Biobanks play a vital role in research by collaborating with pharmaceutical industries and clinical research organizations. Biobanks provide various services required for clinical research (e.g., biospecimen processing and analysis) and supply biospecimens and related data to researchers.
For smooth functioning, biobanks rely on laboratory information management software (LIMS), popularly known as Biobank Information Management System (BIMS). Since every biobank differs in its size and workflow, selecting the right kind of BIMS can be difficult. 
This article highlights the top factors that make OpenSpecimen a better choice over other BIMS available in the market.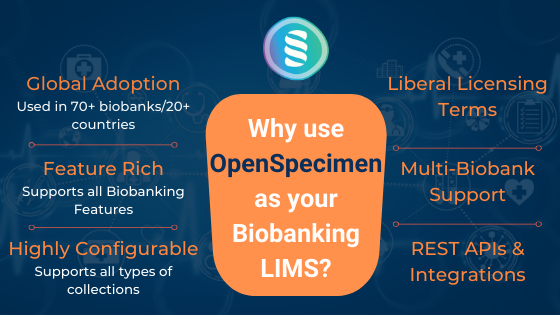 Global Adoption – 70+ Customers / 20+ Countries
We work with leading academic research centers across the globe. Our customers include Johns Hopkins, University of California, Emory University, University of Pennsylvania, Oxford University, Cambridge University, University of Melbourne, University of New South Wales, Singapore General Health, etc. Click here for the complete list.
Our customers range from enterprise-wide adoption, individual research groups, and single study setup. Many of them have been using OpenSpecimen for 10+ years with millions of specimens across 100s of studies.
Highly Configurable
Biobanking is a diverse field where each institute or group can follow different workflow and data collection needs. For example, the collection workflow for a breast cancer longitudinal study with predetermined time points will differ from biobanking prospective specimens for COVID.
OpenSpecimen allows you to configure screens and workflows based on the user's role at a collection level. These configurations can be done via the user interface without any programming efforts or highly trained IT staff.
Feature Rich
OpenSpecimen supports different types of biobanking protocols – longitudinal, prospective, animal collections, etc. The description of each feature can be downloaded from here.
Enterprise Adoption – Multiple Biobank Support
Many of our customers use OpenSpecimen as their Enterprise-wide BIMS. I.e., multiple research groups share the OpenSpecimen infrastructure where their data is isolated and remains invisible to other research groups. Each research group can have multiple collection protocols, freezers, and users.
For example, Washington University at St. Louis supports 50+ research groups with 80+ active users and ~2 million specimens.
REST APIs and Integrations
Biobanks use several other applications such as EMR, EDC, etc., and instruments such as automated freezers, specimen processors, etc. The data from these applications/instruments should be integrated with BIMS for smooth management. 
OpenSpecimen is a 100% REST API-enabled application. We support integration with REDCap, OpenClinica, Epic, Cerner, barcode printers, other databases, and instruments. Integrations with other applications or instruments can be achieved using the REST APIs.
Others
Liberal Licensing Terms:

Unlike our competitors, we do not charge by the number of users or studies. Such liberal licensing terms ensure that our customers' cost of ownership does not vary as they add new studies or users.

Open Source License:

OpenSpecimen is "open source" with source code publicly accessible via GitHub. Open source means anyone can audit the source code for security and quality or hire in-house developers for enhancements or integrations. 

Rapidly Improving:

To meet customers' ever-growing needs, we make a new version release every 3-4 months. Such short cycles enable us to be iterative and agile. This ensures that bug fixes, improvements, and new features are delivered to customers at regular intervals. The community's needs determine the scope of each release.

Online Resources:

Krishagni conducts regular community meetings, free webinars, Q and A sessions with our customers to engage with end-users across the globe. Our free online resources, like

forums

,

help

portals, etc., enable end-users to engage with us.

We also host a

YouTube channel

that has free training videos. 

Focused and Timely Support:

We are focused solely on OpenSpecimen, i.e., we have no other products or business priorities. This focus enables us to make rapid progress in improving the product and provide timely support.