Quality and Accreditation Institute issued a biobank accreditation certificate to the National Liver Disease Biobank (NLDB) of the Institute of Liver & Biliary Sciences. This became the first biobank accreditation certificate issued in India, marking that India has established a biobanking accreditation system as per the international standard ISO 20387 and is at the forefront of biobanking accreditation in the world.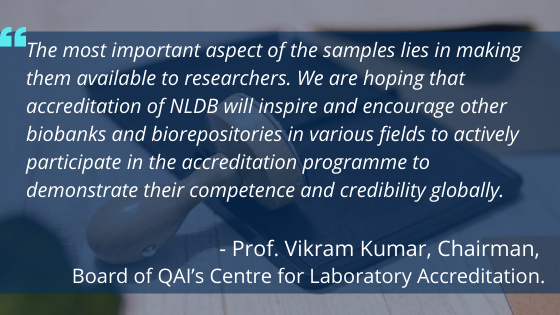 NLDB became one of the few biobanks in the Asia Pacific to achieve this recognition after few biobanks in the USA and China. Most importantly, NLDB became the first accredited biobank for COVID-19 samples in India. Through this accreditation system, standardization of India's biobanking sector as per the international standard has begun which will strengthen biobanks to demonstrate competent biobanking operation and the ability to provide biological material and associated data of appropriate quality for research and development.
Click here to read more.