At the Central Public Health Laboratory (CPHL), a site of the Nigeria Centre for Disease Control's National Reference Laboratory in Lagos, the NCDC has opened a sizable biorepository facility.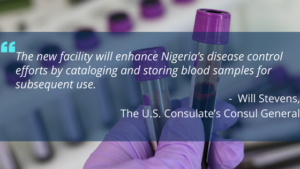 The Institute of Human Virology in Nigeria, one of the project's implementing partners, received funding from the United States Centers for Disease Control and Prevention (US-CDC).
The project was a component of continuing initiatives in Nigeria to improve diagnostic capabilities and surveillance for infectious diseases.
The recently inaugurated CPHL biorepository will act as a national hub for centralized access to priceless, high-quality, and well-annotated samples.
Click to read more.