Introduction 
The Victorian Cancer Biobank (VCB) consortium provides a coordinated and integrated program that collects and distributes tissue samples to support cancer research in Victoria, Australia, and worldwide to deliver better clinical outcomes to people with cancer.
Established in 2006, VCB is now one of the most extensive multi-center collection facilities of its kind in the world, collecting tissue and blood from donors at 26 public and private hospitals in metropolitan Melbourne. 
VCB has been using OpenSpecimen since 2016 as an "Enterprise-Wide" Biobanking LIMS.
This blog will focus on the latest data releases and new achievements of VCB. 
An Insight into VCB Data 
The data below has been taken from July 2020 to June 2021. When the world was fighting the COVID-19 pandemic, VCB strived to provide biobanking services and thus facilitate cancer research. 
~ 500 participants donated their biospecimens at VCB 

~ 6000 specimens provided for the research purposes 

Currently, hold 440,000+ specimens in their biobank

Developed tissue microarray for melanoma and triple-negative cancer research
The below diagram displays the top 10 tumors specimens in their inventory.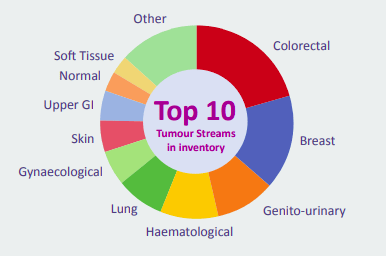 Currently, VCB is involved in four international, six interstates, and fifty-one Victorian projects. The top 3 projects collect breast, colorectal, and upper GI cancers specimens.  
Grants and Publications
By using biospecimens provided by VCB, researchers secured 13 additional grants. VCB received a commercial license for the biomarker technology in detecting cancer. They also published about 15 peer-reviewed publications.
Quality and Operational Sustainability
Since November 12, 2020, VCB has received the Canadian Tissue Repository Network (CTRNet) certification. The CTRNet Biobank Certification Program aims to improve and harmonize biobanking standards through education and communication of best practices and SOPs. All VCB staff completed biobanking best practice education modules and essential biobank processes/documents aligned with international best practice standards.
They also received – 
Development of Cancer Diagnostic Test 
VCB's significant achievement in the last year was its contribution to developing a diagnostic test for breast and ovarian cancer from the biomarker discovery stage to commercialization. 
Prof. Michael Jennings, Griffith University's Institute of Glycomics, collaborated with Prof. James Patton and Prof A Patton, the University of Adelaide, to develop this novel technology. The test is based on the early detection of a sugar (Neu5Gc) expressed on the surface of human cancer cells and released into the blood. Researchers designed a protein called SubB2M that specifically binds to Neu5Gc. 
The promising results attracted Melbourne-based BARD1 Life Sciences to acquire the worldwide license for this technology in April 2020. VCB not only contributed by providing specimens to Prof Jennings' laboratory but are also providing specimens to BARD1 for the development of commercial kits.  
OpenSpecimen and VCB
VCB uses OpenSpecimen to manage their biospecimens and related data. OpenSpecimen provided VCB with a flexible, easily configurable LIMS platform that would also allow them to provide quick specimen turnaround times. Researchers can access VCB's online catalog at any time, where the OpenSpecimen engine provides access to the entire library of biospecimens and status updates, all in real-time. 
Click here to read the VCB case study.
Watch the recording of the webinar 'OpenSpecimen Implementation at Victorian Cancer Biobank':
Watch the recording of the QnA session with Duncan Villanueva (Data Systems Manager, VCB):
Reference: 
https://viccancerbiobank.org.au/wp-content/uploads/2021/12/Key-Achievements-2020-2021.pdf