One fine day, our CEO Mr. Srikanth Adiga sent an email about the "50 KM GOQii Trail Challenge"  to all the team members. Being a fitness enthusiast, he keeps sharing all such events. 
GOQii (pronounced Go-Key) is an Indian fitness technology company. Every year they arrange different types of fitness challenges for all age groups. We went through the details of the challenge. The task needed to cover 50 KM of distance in 18 hours. 
Looking at the numbers, we were hesitant to commit. In our day-to-day life, we hardly walk a mile in a day. Walking 50 KM in a day was a huge task. Nevertheless, five Krishagni members (Bhimsen, Sharvari, Devaki, Ankita and Saurav) were on board within a week to take this challenge. 
The challenge was planned from December 9 to 11th. This nature trail was in Mandangad, a beautiful village in the extreme north of Ratnagiri District in Maharashtra. 
You don't have to see the whole staircase, just take the first step.
– Martin Luther King, Jr.
We registered 3 months before the event. It was enough time to prepare ourselves. The challenge required not only physical fitness, but an extraordinary mental strength. 
The GOQii team provided us a list of guidelines which included details on – 
How to and how much to exercise?

Diet suitable for long walks. They recommended carbohydrate and protein rich diets. 

Some hacks to keep up your spirit high, avoid injuries    
We started preparing ourselves as per the guidelines. Training made us confident to face the huge task waiting for us.     
Day 1: Travel to Mandangad
We started our journey from Pune on 9th December. It was a pleasant 4–5 hours of journey. The campsite was serene and beautiful. Some hot tea and snacks by the riverside was enough to relax us. 
Around 8pm, the GOQii team gave us instructions about the trail challenge. We introduced ourselves to other participants. There were ~200 participants from the age group 12-70. Some had attempted this challenge 3–4 times. Their tips were helpful. The most important advice we remember is – "don't get injured". 
The introduction event concluded with the 'Dhol-tasha' (traditional musical instruments) program. Dancing on the dhol-tasha had charged up everyone for the event. The day ended with healthy food at dinner with soulful music by a live band.
Finally, the day for which we all were preparing arrived! And we were ready to give our 110%.  We woke up at 4 AM and got ready with all the required things. Having breakfast in chilly weather at 5AM was a different experience.
The first part included 3 checkpoints: 0-8, 8-18, and 18-28 KM. We set off for the walk at 5.30AM with our headlights on, since it was completely dark outside. A group from Hindustan Petroleum Corporation Limited (HPCL) company joined us. The first phase was cheerful because of them. Watching sunrise from the first checkpoint was mesmerizing. The place and weather had such a calming effect that some of us performed yoga and meditation. 
We started for the next checkpoint after a short break and recharging ourselves with energy bars and water. We had to walk 10 KM. This trail was through beautiful farms and villages. We met villagers who offered us cold, refreshing water. We also met some women farmers who generously offered us their walking sticks. The sticks helped us a lot in the further part of the trail.
At the second checkpoint, we had our breakfast, followed by 10–15 mins of stretching exercises. We were ready to take on the next challenge. It was the most difficult part, since the sun was soaring high, and we were out of water. A few moments were unforgettable, like putting our head beneath the water of the river we crossed. A simple activity suggested by a fellow member had a refreshing effect.
We took a 30 mins break at checkpoint 3. A simple lunch felt heavenly. Stretching exercises were a must at this point. We were so tired that we couldn't pose or smile for the photos. The only thing that was memorable was delicious modaks after lunch:).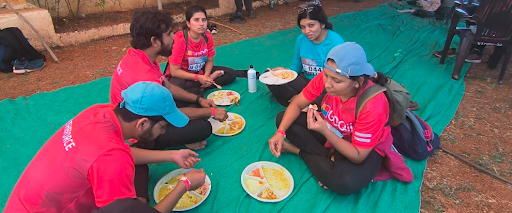 After having lunch, some stretching and rest, we were up for our journey ahead. Now the weather was better. The shadow of trees and cool breeze made the walk comfortable. We thought we would cover the next checkpoint before the time limit. But to our surprise, this was the most challenging path. The multiple uphill and downhills left us exhausted. 
We decided to focus on one step at a time and not to get injured. On our way, we found an unexpected co-traveler: a dog who loved to whine. The dog helped us distract from all the pain and fatigue. 
Soon the darkness started growing. At points, it felt like an unending walk. But here we witnessed the power of team spirit. We were a group of 20 people, who were motivating, helping each other to cross the obstacles. 
On reaching checkpoint 4, all just sat wherever they found the place. Everyone was doubtful whether they could walk further. But a simple sentence from a fellow member, "Chalo! Last Bacha hai bas" (Let's do it, it's the last lap) filled us with enthusiasm. 
We stretched, replenished ourselves and started for the last lap. This was the real test of mental strength. Our body had given up, but the mind wanted to achieve the last milestone. We managed to reach the last checkpoint by 11:00 PM. Tired, and barely managing to smile, we clicked a few photos to capture this important event.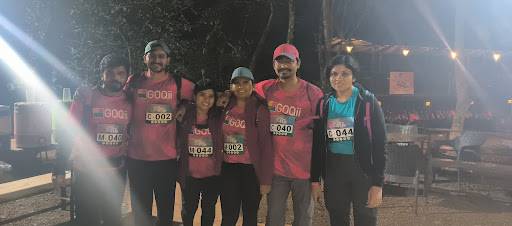 With a quick dinner, we dozed off like there was no tomorrow. Morning welcomed us with sore muscles. But the sense of achievement brought a smile on our faces, the perfect moment to click a picture. We posed with our medals, and started off on our journey to our hometown.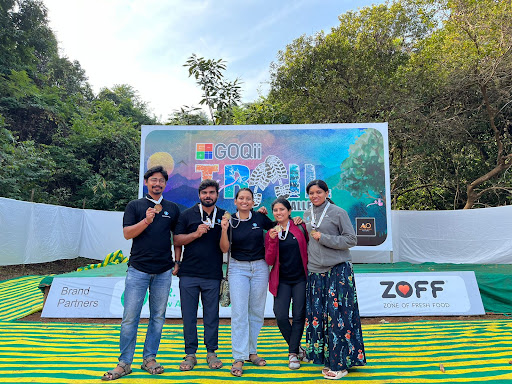 The GOQii trail challenge helped us to learn – good team spirit, never-say-die attitude, and the importance of nature. There were many people who inspired and motivated others throughout the trail. Simple tricks by the GOQii team helped to achieve this task without any injuries. We got to know different types of people, and their experiences. Such events not only connect people, but also to the surrounding nature. Whether it was our companion dog, the fresh water bodies or the trees that made our walk comfortable with their shadow. We will always cherish this event for the beautiful memories.