The Fox Chase Cancer Center Biosample Repository Facility was recently awarded accreditation from the College of American Pathologists (CAP) based on results of a recent on-site inspection.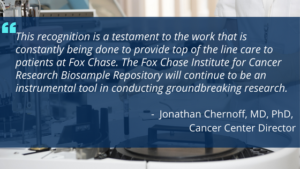 A biorepository is a facility used for the collection, processing, storage, dissemination and analysis of biological samples and associated clinical data for research purposes. Repositories like the one at Fox Chase fill an essential role by facilitating translational research associated with clinical trials and basic research.
"Our success in achieving this accreditation is due to the tremendous effort made by all of our biorepository staff. We are honored and privileged to be among the many facilities worldwide who have been recognized with this standard of excellence," said Denise Connolly, PhD, the facility's director and an associate professor in the Cancer Signaling and Microenvironment research program.
Click here to read more.