The European Medicines Agency (EMA) has chosen the University of Tartu as one of the data partners for the DARWIN EU® network. This partnership marks the beginning of a collaborative effort to utilize health data across Europe, with the aim of using evidence-based data from routine healthcare to support public health, medicine regulation, and safety.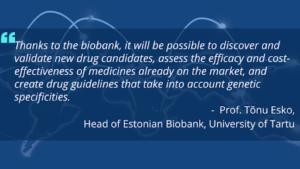 "Health information on the use of medicines from different countries is urgently needed to support and improve public health, and in addition, cross-country analysis has so far been hampered by data compatibility issues. Our researchers are working every day to solve these problems, and this is certainly one of the reasons why we were included in the network," said Raivo Kolde, Associate Professor of Health Informatics at the Institute of Computer Science.
Click here to read more.