Read this article where the Biology alumna Hope Kenmore' 20 describes her day-to-day work with the COVID-19 virus as an Institutional Biorepository Core Lab Technician at Weill Cornell Medicine (WCM) in Manhattan.
Often referred to as the "biobank" for the Weill Cornell Medicine/New-York Presbyterian Hospital campus, the Institutional Biorepository Core (IBC) lab receives, processes, and stores all different kinds of specimens from human research participants.
Hope's job as an IBC tech primarily involves processing biofluid specimens that have been collected for ongoing clinical studies. For each study, they isolate different components or cell types from blood and urine, then freeze the resulting aliquots according to downstream applications in the protocol.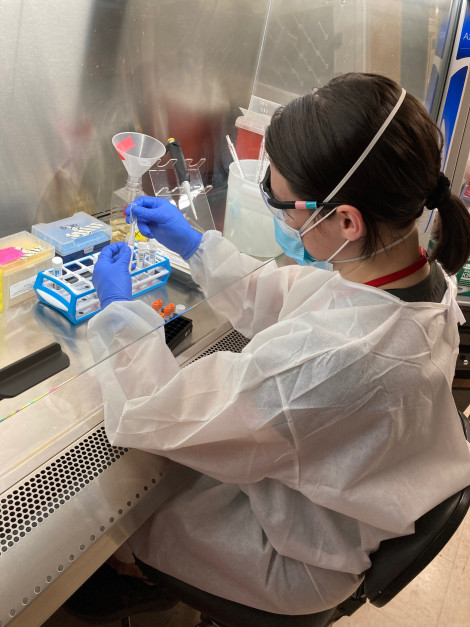 In the pictures, Hope Kenmore is aliquoting COVID-positive VTM samples into cryotubes for long-term storage. Any potentially infectious sample is processed in a special Biosafety Level 2 Enhanced (BSL2+) lab which requires layered PPE and extra safety protocols in addition to standard BSL2 regulations.
Click here to read more.
Read a blog on OpenSpecimen and COVID19 research.