Each year in the U.S., more than 356,000 sudden cardiac arrests occur. Researchers at the University of Cincinnati hope to learn more about the causes of cardiac arrest through the Cincinnati Biorepository to Enhance the Acute Resuscitation of Cardiac Arrest Patients (Cincy BEARCAT) study.
"We know a little bit about what causes cardiac arrest," says Justin Benoit, MD, assistant professor in the Department of Emergency Medicine at the UC College of Medicine.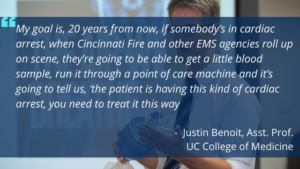 Benoit says they will be collecting blood samples of around three tablespoons which will be stored in a biorepository to examine later and try to determine if the sample can reveal what caused the cardiac arrest and how it can be reversed in the future. Those samples may also be used in current and future research.
Click to read more.