Biobanks help researchers to achieve reproducibility by providing high-quality standardized biospecimens. Accredited and certified biobanks follow best practice guidelines for specimen handling. Biobanks provide many services to researchers like specimen collection, processing, storage, and distribution. The synergy between researchers and biobank is the keys to successful translational research (1).
While most biobanks use some kind of software to manage the biospecimen inventories, most of them do not support project tracking. Usually, projects are discussed over emails and tracked in Excel sheets. As biobanks grow, tracking many such service requests from multiple researchers can get cumbersome and hard to manage.
Project Tracker
OpenSpecimen's Project Tracker module helps biobanks and researchers to keep track of projects, requests, services, timelines, and their statuses. It also supports email notifications and messaging to ensure information is not lost in emails.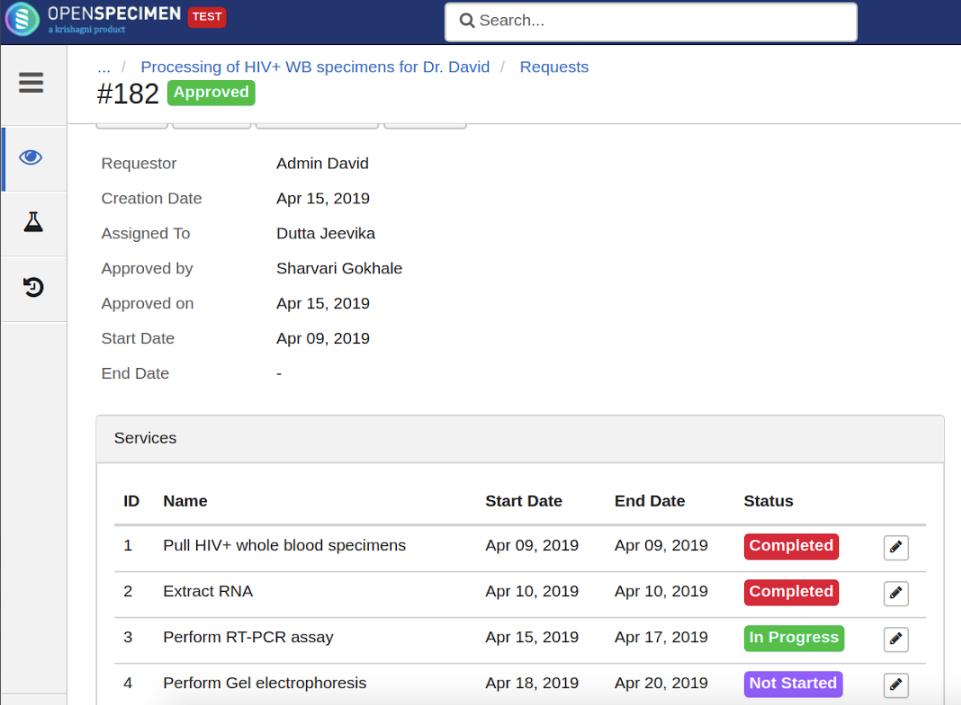 Project Tracker allows researchers to:
Create multiple projects and request services

Select specimens of interest and add it to the request

Track project status with automatic email updates

Download reports
Project Tracker allows biobanks to:
Track requests from multiple researchers

Organize all communications of a project in one place rather than emails

Assign services to biobank staff and track status

Track end-to-end project status (approvals, rejections, start dates, completion dates, on hold, etc.)

Receive automatic email updates for every status change of a project
Project Details
Project: A project is a high-level object which contains basic details like PI, IRB ID, funding details, services to be provided, etc. A project can have a status of Draft, Pending Review, Approved and Rejected. Once a project is approved, the researcher can create multiple requests under it.
Request: A request has one or more specimens and a list of services. A request can also have a status i.e. Draft, Pending Review, Approved and Rejected.
Services: Each project or request can have one more service linked to it. E.g. aliquoting, DNA process, plasma extraction, etc. Service within a request is tracked using start and end date, and status (In Progress, Started, Completed, etc.).
Privileges: Only authorized users have access to project data.
Alerts: At each update, all project users and biobank admins receive email notifications.
Summary
The 'Project Tracker' module helps improve biobank efficiency. It reduces the communication gap between biobanks and researchers and eliminates the need for using Excel sheets outside OpenSpecimen. Finally, OpenSpecimen's reporting module enables biobanks to query for data and download reports.
For more details about Project Tracker, please email [email protected].
References:
1.   Brown et al. How Biobanks Are Assessing and Measuring Their Financial Sustainability. Biopreserv. and Biobank. 2017
Written by: Sharvari Gokhale, Product Expert, Krishagni
For more details, email [email protected]