Atlantic Health System has shared the first samples of human tissue through a new partnership between the state-of-the-art Atlantic Health BioBank and the National Cancer Institute's (NCI) Cooperative Human Tissue Network (CHTN) – Southern Division.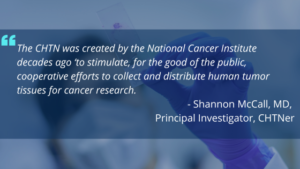 The CHTN is a resource supported by the NCI that provides increased access to human tissue for scientific research. Founded in 1987, the CHTN has provided more than 1 million specimens to more than 3,400 investigators around the world. Located at prestigious universities and hospital institutions across the country, CHTN divisions work directly with researchers and investigators to provide them with the de-identified/anonymized biospecimens and tissue processing services suited to their specific needs. Only eight institutions have ever been part of the CHTN.
Click here to read more.