Allelica, the leading provider of polygenic risk score analysis technology, announced that it has joined forces with the Taiwanese precision medicine provider, SP BioMED, to perform a polygenic risk score (PRS) study for breast cancer. SP BioMED will run PRS analysis using Allelica's PREDICT module to calculate PRS for breast cancer on known breast cancer cases in their local biobanks.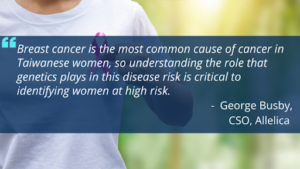 The objective of the study is to determine the best-performing genotyping technology for accurate, scalable, and cost-effective genome-wide data generation for downstream applications such as PRS calculation in Taiwan's population. The study builds on Allelica's recent efforts to empower local institutions to build capacity to provide clinical-grade PRS analysis and reporting.
Click here to read more.